Finding the right private security firm can be a hassle as there are many security companies in Toronto, with hundreds of them fully licensed. The private security industry is diverse, and at the brink of choice, you must make the right decision. So, what security companies would you pick to ensure premium protection of private property, event, public property, or an individual?
In the past decade, the number of private security guards offering security services nationwide has quadrupled. From mundane tasks such as parking lot enforcement to offering advanced security guard services and handling private investigations, the entire private security industry is expanding dramatically.
Here are some important factors to consider to make informed choices when hiring a private security guard company.
1. Confirm the licensing of the security company
One of the important things you should consider is whether the security company is licensed, provides exceptional security guard services, and a wide range of security services. If the security company provides armed security guards, unarmed security guards, private investigation services, and other similar services, find out if it has the right license to provide such services.
Keep in mind that private investigation and security guard services are two separate areas of specialization. The Private Security and Investigative Securities Act states that a licensed security guard is an expert who performs the duties of guarding or patrolling properties or individuals for remuneration. A private investigator, on the other hand, conducts investigations to offer specific information for remuneration.
When a private security firm is licensed to provide two different security services, it offers professional security guards and private investigation services. It is also essential to ensure that you hire a private security firm that performs a background check on each of its security officials before recruitment.
2.   Make sure the security company owns marked vehicles for patrol activities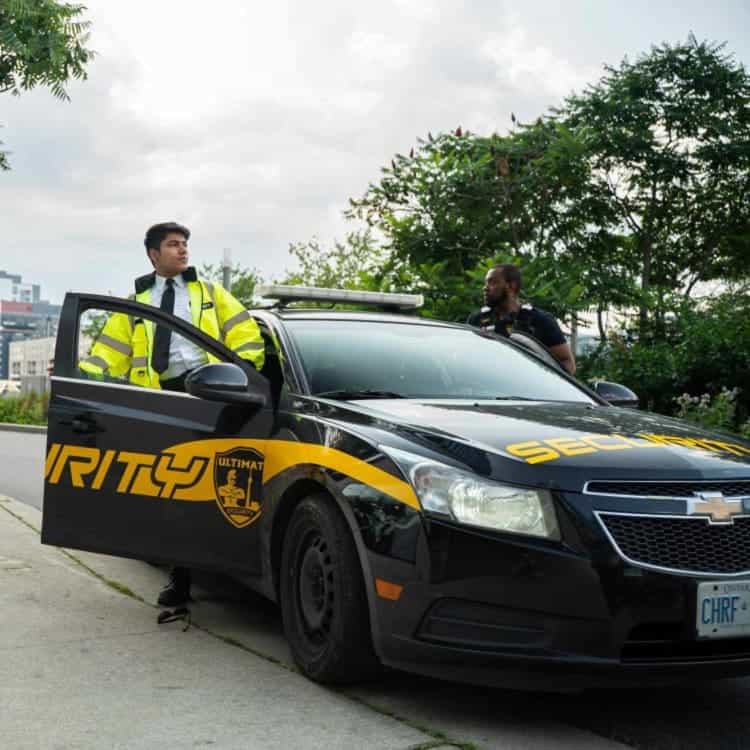 Sometimes, the security officials protecting business property or private property may require additional support, particularly in emergency and unfamiliar situations. Mobile security vehicles operated by trained security officials can provide the necessary help. Besides, the security patrol can suffice when a guard isn't available during their shift.
Note that security guards also need lunch breaks and washroom breaks. A marked security patrol vehicle can cover for them to ensure that their post is not left unattended during these breaks.
3. Find out if the company performs in-house security guard training for internal security staff.
One of the basic requirements that every licensed security guard should meet is the mandatory provision that the guard must have at least 40-hours-long security training. Besides, they should be certified in CPR or Emergency First Aid. This level of training can be obtained through online training or the classroom.
Security officials can also increase their overall ability to perform, particularly if they get training beyond the basic security requirements, including de-escalation and use of force (when necessary). Note that some security service providers tend to contract training activities of their internal security staff to a third party.
In addition to the mandatory training sessions, in-house security official training demonstrates a more significant commitment to the company's objectives. This often creates a situation of reliability and trust.
4.   Specify your budget
It is easy to find professional security companies in Toronto. However, you must define your budget. Sure, there are many security guard companies across the city, but you must find one that provides a professional security guard team you can afford. Keep in mind that different security services providers implement varying pricing models, which is why you must compare prices (rate per security guard) before you hire.
Whether you need regular-looking security personnel, residential security, security checks during an important event, or a robust security approach to protection for property, charges fall in varying categories for various security firms. Here are some of the top security categories that various companies provide services in;
Guest screening
Controlling disputes
Patrolling event areas (whether patrol guards or using mobile security vehicles)
Guard dogs
Driving
Executive protection
5. Hire a security firm whose services are relevant situation
When choosing a security service provider to take charge of the protection of your event, property, or person, you should ratify if the company's services can address or are relevant to your situation. For instance, you cannot hire parking lot enforcement officers or traffic control guards to protect a VIP with a high net value and a lot of popularity. Besides, if you need subtle security, it is recommended to hire personal bodyguards who can successfully blend well in a mall, street crowd, or even meetings.
No matter your choice, make sure that the security officials you are can adapt to your lifestyle that fits your personality and needs. So, it makes sense first to check the nature of the services a specific Toronto security company provides before hiring.
You can rely on USS private security services.
At Ultimate Security Services, we offer reliable private security services. Our security officials have exceptional driving skills, the ability to perform under pressure and execute their duties perfectly. We have tested their responsiveness in instructions, attention to detail, discretion, and commitment. These security specialists can handle various security incidents, security issues, security systems and prevent losses from property damage. If you need protection for the residential property against vandalism or other advanced security services, you can count on us.