To become a concierge, bouncer, or security guard in Ontario, you must pass Ontario security testing and have a valid security guard license. Licensed security guards have the duty to protect people and properties, whether public or private. After completing the recommended courses for security guards, they can work as private investigators (but you need a private investigator license), concierge, airport security officers, and other roles. A security guard can also work as a loss prevention employee.
Note that after completing security guard training in Canada, the candidates must pass the recommended Canada security guard test or Ontario security testing to acquire a security guard license. This security license card belongs to you, and you can always carry it from one job to another.
Who is eligible for Ontario security testing?
To be eligible for Ontario security testing, you must be 18 years or older, legally able to work within Ontario, have a clean criminal record (no criminal offenses committed), complete the basic training program, and pass the Ontario security guard test. Note that you can access the Ontario security guard practice exam to familiarize yourself with what you should expect during online test sessions or physical testing locations.
Keep in mind that people who have been convicted (not pardoned) of any of the over 80 criminal offenses highlighted in the Ontario regulations (Eligibility to Hold License – Criminal Record) cannot acquire a valid security guard license or renew even after testing completion.
How do I get a security license in Ontario?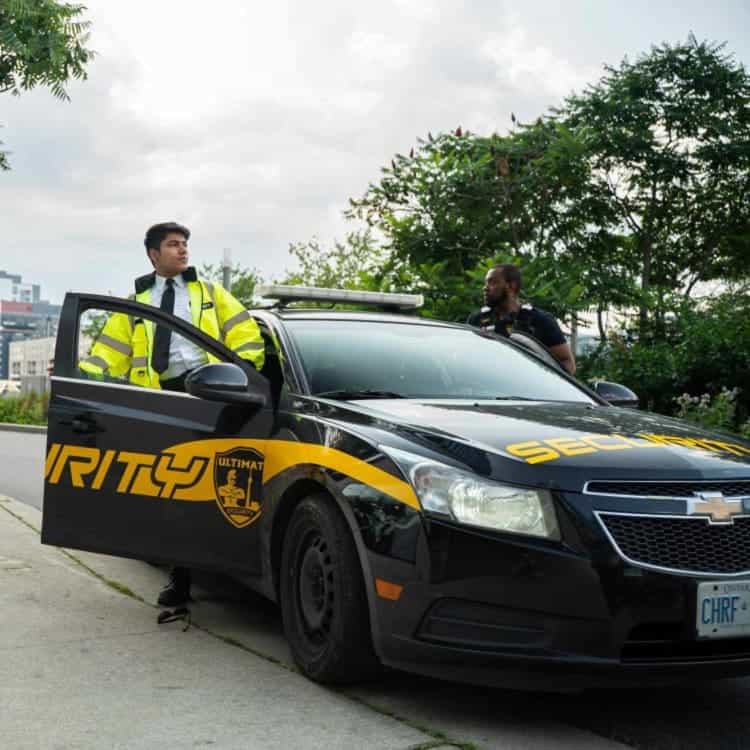 Complete the basic security guard training: Choose a training entity that offers basic training courses for security guards. The course must cover all the requirements and be carefully designed to prepare you for the Ontario security testing. Consult with Ultimate Security Services to figure out the right security basic training program that best suits your requirements.
Pass the Ontario security guard test: This security guard basic test consists of at least 60 multiple choice questions, and candidates have about 75 minutes to complete it. The passing score is 62 percent. If you fail, you can take this test as many times as you need to pass. Remember, you must pay the test fee each time.
Apply for an Ontario security guard license: Upon training completion and undergoing testing for security guards, you can apply for your security license through ServiceOntario. Submit your security license application documents by mail or ServiceOntario account. Remember, license application documents may not be accepted at in-person counters.
Ultimate Security Services offers protection services
You can trust our teams of security experts who have passed Ontario security testing and have performed many security assessments while delivering positive results. You can rely on our security expertise in various areas such as event security, neighborhood watch, security technology, parking enforcement, mobile security, security guards, and more.