Hiring security guard in Toronto is not quite like hiring a babysitter. Hiring a babysitter may need you to ask your neighbor or a relative to keep an eye on your child. But, hiring security professionals demands that the security company you choose offers consistency, commitment, reliability, and the ability to assess and address security risks. You must vet your choice because your security requirements are unique. Besides, every establishment is different. Here are three factors you may want to consider when hiring security guard in Toronto. 
Is the company a reputable security service provider?
Whether you live in Toronto or in North York, you can't afford to take your safety lightly. You need a security officer with a clean criminal record and highly competent when it comes to assessing and addressing your security needs. In addition to considering the average cost of the security guard services, it's important to choose an armed security guard from one of the top security guard companies.
First, you need to ensure that the private security firm delivers on its promises because this can bring a huge difference. Probe your decision. Does the armed security guard address your sensitive or uncomfortable security concerns? Because if you're a property owner, your employees and patrons need to feel secure on your premises. Even in your home, security guard requirements must be considered, such as 24/7 response time and patrol.
That said, don't make assumptions when hiring security guard in Toronto. Your confidence in the security guard services provider your hire depends on its ability to handle actual and potential threats. Therefore, it helps to check its personnel skills, determine that they are professionals and licensed.
Is it difficult to determine if a private security firm is reputable?
No, it's not complicated. First, the company's size helps you determine its capacity and coverage. Then, find out whether they consider a candidate's criminal record, professionalism in a high-risk situation, and other important factors when choosing job seekers who intend to train as professional security guards. That's not all. You can dig deeper and find out if the security company can provide an experienced mall security guard, expert in alarm systems, reliable private investigators, security drivers, or affordable security solutions that will address your security guard requirements.
Read the security company's online reviews. Inquire about other local businesses using the same firm. You will realize these are excellent ways to evaluate the quality of service you're likely to get from the firm. Find out what the previous customers say about the company's average security cost, customer protection, customer service, and more.
Check innovative technology when hiring security guard in Toronto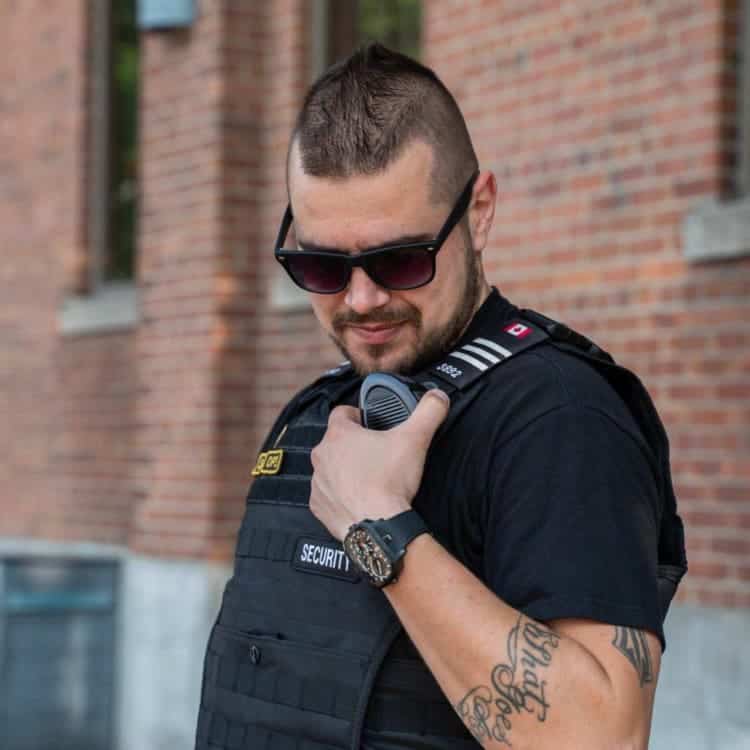 As technology evolves, so does crime. You know that the traditional physical presence of "the security officer" doesn't guarantee safety. News reports reveal that conventional crimes are no longer limited to break-ins and holdups. If this true, then your choice for security must address the trends in crime.
Modern security firms must invest in a criminal background check for every prospective bodyguard, ensure each of their team members under ongoing training regarding private property security, access control systems, security automation systems, and other technical security systems.
There is more. Hackers have their tentacles creeping and crawling to exploit security loopholes. Granted, CCTV is an invaluable tool, but it needs supplementary tech services. That is, skilled security guards are non-negotiable. You realize that hiring security guard in Toronto requires that you investigate its innovative technology and tech-savvy security guards.
In particular, you must ask if the guards can work with your back office. It helps to reduce or eliminate incidents of a breach. Consider if the firm facilitates real-time reporting of incidents. That is, the guards can respond to threats even when away from their workstations. Today's security company must monitor and manage its security forces.
When you're hiring security guard in Toronto, you need to ensure that the dispatch is fluid, mobile.
Pricing and Flexibility
Security comes at a cost. But it's justified. You do not want to spend your nights breaking into sweats, grinding your teeth, and conjuring up terrifying images of a break-in on your premises. When you decide on hiring security guard in Toronto, remember to examine the firm's practice and professional aspects. Do you need security for a residential home, a communal court, or your vehicle?
Before hiring security guard in Toronto or signing any contracts, ensure that the security firm is forthright on prices and corresponding services. Find out the procedures for additional guards. Ask if the charges for such services are hourly or flat rate. Don't ignore or compromise your requirements. Cover them to the best.
Overall, your decision on hiring security guard in Toronto is serious. And, the highlighted crucial pointers help you to make informed decisions because your safety matter to us. Even though the list is non-exhaustive, we emphasize that your security must be reputable, capable, and reliable.
 At Ultimate Security Services, we care about your security needs. Even if you need a customized security plan, we deliver on the same. You deserve to enjoy peace of mind. Leave the risk, threat, and security of your firm in our capable hands. Before hiring security guard in Toronto, consider consulting with our security experts first.