Business and not-for-profit organizations are vulnerable to different kinds of risks, including technological, financial, social, natural, and more. Though some types of these security threats are cannot be prevented and can only be insured against to minimize the resultant damage, there are security threats that can be successfully mitigated through security services in Toronto. Contracting or hiring security companies in Toronto can ensure the safety of your staff and property.
Benefits of security services in Toronto
Here are some of the top benefits of security services in Toronto.
24/7 protection
Contracting or hiring a reputable security company in Toronto allows you to enjoy effective 24/7 protection or as requested. Whether your business facility operates during the day and night or your business simply runs from morning to evening, the security company will continue to offer the required security services for optimal protection. Security services in Toronto are also available during holidays and weekends, which means your employees, valuables, and facilities are secure at all times. This will give you peace of mind at all times.
Highly comprehensive security Services
One of the top benefits of working with a security company in Toronto is that outsourced security companies often have a huge inventory of security equipment and systems that they offer to their clients, in addition to having professional security guards. These services include fire alarm monitoring, alarm systems, trained security guards, video surveillance services, and other security services.
Effectively integrated security solutions are highly beneficial in responding to various emergency situations and offer recorded evidence of incidents. A client can also enjoy a wide range of highly professional security services in Toronto and advanced security equipment at a fraction of the total cost of acquiring high-end security technology, upgrading, and maintaining it.
Expertise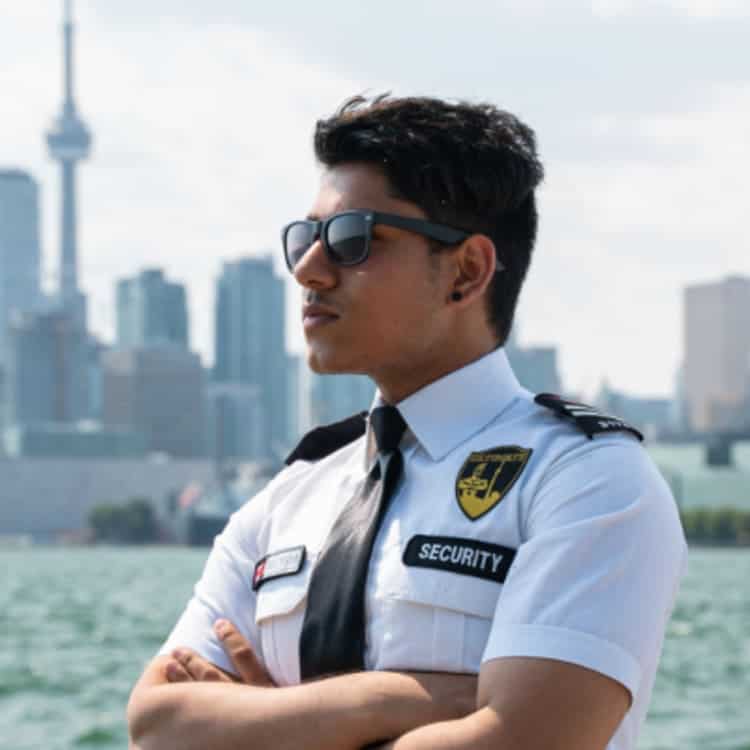 For most security companies in Toronto, protecting people, valuables, communities, and property is the core of their practice. As such, their budget and efforts go towards improving their security operations. These companies often upgrade their security systems to include the newest security technologies and perform background checks when hiring their staff.
Their security officers and other personnel are also trained, uniformed, equipped, or uniformed depending on customer specific requirements. These experts can help with professional dispute resolution, access control, first aid emergency response, and quality control checks. Moreover, trained security officers, their managers, and supervisors usually have many years of experience with highly diversified security backgrounds. This is why you can count on their expertise and many years of experience to offer cost-effective security solutions that fit your needs.
Flexibility and scalability
Security companies in Toronto have easier access to better security equipment and highly trained security guards. These services are essential in case you need to meet some kind of temporary additional requirements such as VIP events, functions, or short-term security threats. The convenience and flexibility that security companies in Toronto offer in such situations can't be compared to the hustle and high cost you would incur to train, equip, and uniform new security guards.
That means outsourcing your individual or business security needs also eliminates the risk associated with diverting some of your untrained, non-security employees to help handle security matters. After all, this can impact your business operations and overall security. Note that you can also get permanent security guards and long-term security services in Toronto.
Timely response to emergency situations
Most security companies in Toronto provide alarm monitoring services to effectively initiate the necessary emergency procedures once a threat has been identified, such as unauthorized access or fire. Their on-site security officers have outstanding skills to effectively respond to various securities issues on time without waiting for directions from their supervisors.
Indeed, most of the security guards are trained to handle emergency situations and quickly take the appropriate actions such as alerting the occupants of the premises of the threat and making that the right evacuation procedures are followed. There are also security guards who are trained to provide CPR and first aid to save lives.
Summary
It is essential to mention that inappropriate or insufficient security arrangements are just as harmful to your organization's safety as having no security measures at all. You must find a reputable company providing reliable security services in Toronto to successfully prevent various security threats to your organization.
The Ultimate Security Services is one of the top security agencies providing a broad range of security services in Toronto. We have been a great security partner in the security industry for many years, offering security guard services, physical security presence, neighborhood watch security program, security training, and more. We offer exceptional customer service and a wide array of training programs and security services in Toronto, Richmond Hill, and other areas.